Denton Property Management
Let us manage your Denton rental property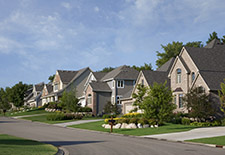 Great service is the primary differentiator between management companies. Some deliver it, most don't. Our focus is to provide a personal touch to each of our owners through fast leasing, quality management, and excellent pricing. Click here for a detailed flyer.
Highlight of Our Services
Fast Leasing, Good Tenants
+
Owning an investment property and watching it sit vacant is extremely frustrating. We have an arsenal of methods to get you good quality tenants as quickly as possible. We use a combination of traditional methods (sign in yard, agent communications) and modern methods (MLS, 3rd-party site postings, this web site). Once an application is received, tenants will go through a detailed screening process prior to being approved. Also, we stay in contact with you during the leasing process with regular updates
Excellent Pricing
+
Don't be fooled by management companies who quote low management fees, only to "nickel and dime" you with additional fees for services that should be included. Also, we DO NOT charge you when your property is vacant. This gives us incentive to get you a tenant. That is why our pricing structure is designed so that we don't get paid unless you are getting paid. The following pricing structure makes us unique:
No fees charged when the property is vacant.
No eviction fees--only actual expenses are passed through to owners.
No repair coordination fees--only actual repair costs are pass through to owners.
We charge a very low leasing fee of 50% of one month's rent and 10% for renewals
We charge a management fee that varies depending on the number of units managed.
We charge no other fees.
Consider us to manage your property. Are you managing your property yourself but tired of the hassles? Or, do you have an average property manager who does not maintain the property or communicate with you? These are some key areas where we provide real value as your property manager.
Quality Management
+
Our management approach places our owners in the driver's seat, giving them choices that our competitors don't offer. Yes, each month we collect rents for our owners and send them the proceeds, but that is not all we do. Our goal is for our owners to have peace of mind, knowing their property is in good hands. We provide open communications, fair but firm rent collection, repair coordination, monthly and annual statements, HOA / city code issue resolution, and eviction services. We work hard to keep our owners up-to-speed and are available 7 days a week.
Marketing
+
We utilize a multi-pronged approach when marketing your property. This includes a sign in the yard, listing in the MLS, and exposure across multiple web sites. Also, we partner with other area property managers to exchange tenants for mutual benefit. With a vacancy rate of 2 - 4%, we get results!
Tenant Screening
+
You care about your property and want good tenants who will pay the rent on time and keep up with maintenance. One bad tenant can kill your cash flow. That is why we go beyond simple credit checks and carefully review a number of tenant credentials:
credit checks
criminal history checks
sex offender database scan
previous rental history
employment verification
By keeping the bad tenants out, we protect your investment and cut down on the probability of evictions, tenant damages, and (thus) your expenses.
Accounting, Rent Collection and Disbursement
+
As a property owner, you are the boss . . .
Rent Collection: Our tenants have multiple ways to deliver the rent. We use a fair but firm approach to rent collection and get our owners in the loop when necessary.
Accounting: Our owners receive a monthly statement which can be delivered either via regular mail or paperless (with emailed statements/receipts and direct deposit of funds). Annual statements are delivered each year.
Evictions: Because of our careful screening techniques, we have very few evictions. However, we do perform evictions if necessary at no extra charge.
Inquire About Our Services
Denton Area Information
Located north of the Dallas–Fort Worth metroplex in North Texas, Denton is known for its active music life; the North Texas State Fair / Rodeo and the Denton Arts and Jazz Festival attract over 300,000 people to the city each year. The city experiences hot, humid summers and relatively few extreme weather events.
The Denton Square, bordered by Oak, Hickory, Locust, and Elm Streets, is a cultural and political hub of the city. At its center is the Denton County Courthouse-on-the-Square, which includes local government offices and a museum showcasing area history and culture. Listed on the U.S. National Register of Historic Places, the former county courthouse was restored for the Texas Sesquicentennial in 1986. The positive response to the renovation sparked a downtown revitalization program that generated new jobs and reinvestment capital. The downtown square is populated by local shops and restaurants, some of which have been in business since the 1940s. Each year, the downtown square is adorned with lights and spotlighted during the Denton Holiday Lighting Festival. Source
Areas We Serve